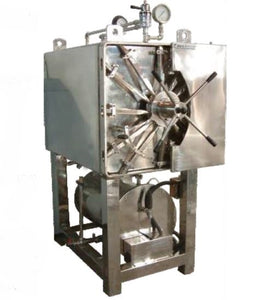 Horizontal Autoclave (Rectangular) (Model No. HV-130-HA)
Rs. 553,238.00

Rs. 553,238.00
---
---
Horizontal Autoclave (Rectangular)
Construction :
Inner chamber is made of thick Stainless Steel Sheet of 304 quality and jacket is made
out of Stainless Steel Sheet.
The door is made of thick high grade Stainless Steel plate.
The unit is hydraulically tested to withstand pressure upto 40 psi.
Inner chamber and steam jacket are made of heavy gauge Stainless Steel sheet with
leak proof argon arc welding.
Steam Generator (Boiler) :

Made of thick stainless steel sheet suitably located under the sterilizer.
High grade flanged immersion type heaters are fitted at the backside.
Fitted with Water Level, Safety Valve, Water Inlet and Drain Valves.
It is also provided with Low Water Level cut off device to protects the heater from
burning out dry.
The steam pressure in the boiler is indicated on a individual pressure gauge.
Pressure Control :
The "PIEZOSTAT" (Pressure control device) is incorporated in the unit as it economises on power consumption and reduces the frequent opening of the steam release valve and thus prevents the release of steam in the room, It cuts off the power supply to heaters when the set pressure is achieved and re-energises the heating elements when pressure falls below the set point.

Safety Door :
Sterilizer has hinged self-locking single piece thick SS plate door and cannot be opened when under pressure. The self-locking device automatically disengages the piston mechanism when the sterilizer is under pressure to preclude any eventuality of accident.

Single Point Control :
Complete sterilizing cycle is controlled from one point with the help of "Three way / Multiport Valve" fitted at front top. Easily readable jacket and chamber pressure on gauges mounted on the front top. A moisture trap is fitted in the chamber discharge line to absorb the condensate automatically to prevent moistening of the subject matter to be sterilized. Automatic Vacuum breaker is provided to break vacuum in case of formation of vacuum due to steam condensation.

Switch Box :
Houses the PIEZOSTAT, Main Switch, Pilot Lamps, Relays etc. and mounted on the stand of the sterilizer for easy operation.
---
We Also Recommend
---