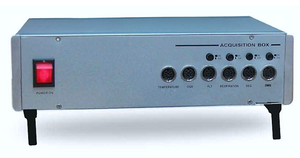 Advanced Biofeedback System (Model No. HV-BS-701)
Rs. 210,750.00

Rs. 210,750.00
---
---
Advanced Biofeedback System (Digital Biofeedback System)
Parameters: 
EMG                                

EEG (Alpha) 
Respiration                    
GSR
Temperature
 Pulse
ECG & HRV (Optional)
Continuous graphical display of all parameters Simultaneous and Singular
Visual feedback through Digital Display and color bargraph
Audio feedback through Head Phone or Speakers
Facility to play Audio of your choice for relaxation
Facility to play visual of your choice on the monitor screen for relaxation
Storage of Patient data for review
Plotting of graph depicting patient's progress for every parameter
User definable event marker
Facility for Video & Audio recording (optional)
Technical Specifications:
Number Of Channels : 6
A/D Conversion : 14-bit A/D
Sampling Rate : 256Hz
Sensitivity : 1 to 1500 μV/mm
Low Pass Filter : 0.1, 0.3, 0.5, 1,3,5,7 Hz
High Pass Filter : 0.1, 0.3, 0.5, 2, 10, 15, 35, 70, 99Hz.
Sweep Speed : 15, 30, 60,100 mm/sec
Notch Filter : 50HZ
Input lmpendence : > 10M ohm
CMRR : > 80-85db
Power : 220V AC/ 12V, 2.2AH
Battery Backup : Approx. 3 Hrs.
Inputs
EEG (Alpha): Through silver -silver chloride electrodes.
EMG: Through silver-silver chloride Electrodes
GSR: Two silver - silver chloride Electrode.
Pulse: Through infrared sensor.
Respiration : Through chest belt.
Temperature: Through surface temperature probe.
Minimum Computer Configuration
OS: Windows XP Pro/Windows7 Professional 32 bit,
Processor : Core2Duo or higher,
RAM: 2GB or higher, 4 0 GB harddisk or higher, CD/DVD Optical Drive, Screen Resolution 1024 x 768 or higher
Transducers & Accessories:
Component                         : 1 no.
Respiration Bell                   : 1 no.
Pulse Transducer                 : 1 no.
Temperature Sensor            : 1 no.
GSR Electrode                      : 1 set
EEG electrode                      : 1 set
EMG disc electrodes            : 1 set 
EEG paste                            : 1 jar. 
Fuse                                     : 2 nos.
Earthing cord                      : 1 no.  
User manual                        : 1 no. 
Conductive Jelly                   : 1 tube 

---