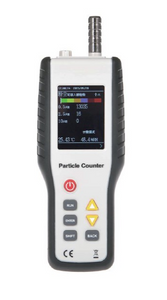 Air Particle Counter (Model No. HV-PC-9600)
Rs. 56,700.00

Rs. 56,700.00
---
---
Air Particle Counter
Features:
Three channels and a particle size range of 0.3 µm to 10 µm.
Ultra-lightweight and ergonomic design for easy single-hand operation.
Large 2.8 inch LCD color display with backlight, intuitive icons, and large font options make for easy navigation and viewing.
999 records stored in device for easy access to historical data.
Consist of Semiconductor Lasers Light Source.
Technical Specifications:
Three size channels : 0.3 µm, 2.5 µm, 10.0 µm
Light source : Semiconductor Lasers Diode
Count modes : Piece/L | ug/m3
Counting efficiency : 100±10%@0.5 um
Principle : Optoelectronic type
Measurement Range : 0-1000ug/m3
Data storage : 999 records
Automatic Power Off : Yes, 2 minutes (no key operation)
Display : LCD color with backlight, Resolution Ratio: 1ug, Screen: 2.8 inches, Resolution: 320x240
Delay time : 0 to 24 hours
Sample inlet : Pumping Type
Test Method : Manual
Sampling Time : 50 s
Dimensions (L x W x D) : 24.2 cm x 8.5 cm x 4.0 cm
Weight : 0.58 kg
Power adapter : 6F22, 9V battery
Startup/Working Current : 120 m A/ 200 m A
Typical precision : <20%
Operating environment : 0 ~50°C
Humidity Range : 0 ~99%RH
Warranty : One-year
Accessories included : HV-PC-9600 Meter, Batteries, Carrying Case, User Manual
---