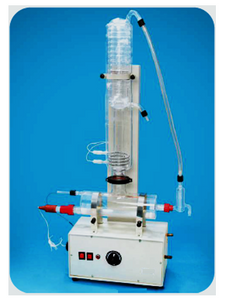 All Quartz Double Distillation, Horizontal (Model No. HV-QD Series)
Rs. 78,459.00

Rs. 78,459.00
---
---
All Quartz Double Distillation Horizontal
Features:

Replaceable Silica Heater: The Horizontal Quartz Jacket is fitted with removable silica heater and screw threaded connectors for ease of cleaning. 
Distillate temperature is around 65 to 75°C which is ensured by an efficient condenser.
The stand is powder coated for rust free operation and lustrous appearance.
Cooling water from the condenser is re-circulated into the boiling chamber, hence saving energy.
Fuse is provided for safety in case of voltage fluctuation or short circuit.
Boiler is provided with a Teflon Stop Cork for easy draining and cleaning of the Boiling Chamber.
Additional In-built Safety Features:
Gate Valve: Conserves cooling water wastage in case of power failure.
Flow Switch: Additional in-built safety feature for the equipment unit shut off in case of cooling water failure.
Temperature Switch: The boiler is equipped with a safety temperature switch which shuts off the unit if water level in the boiler falls below the heater, thus saving the glass parts from any damages.
---