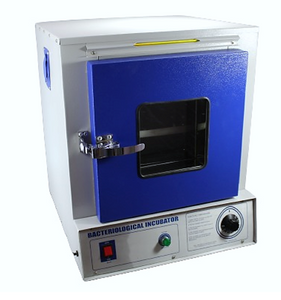 Bacteriological Incubator Thermostatic With Timer & Air Circulating Fan (Model No. HV-107-BI)
Rs. 14,566.00

Rs. 14,566.00
---
---
Bacteriological Incubator Thermostatic With Timer & Air Circulating Fan 
Technical Specifications:
Standard double wall fabrication, inner chamber made of richly anodized aluminum or highly polished stainless steel sheet. Exterior fabricated out of thick mild steel duly finished with white powder coating. The gap between the walls is fitted with special grade glass wool. Provided with two or three removable shelves. Kanthal wire heating elements
provided on three sides to attain quick and uniform heating in range of 30° C to 110° C ± 1° C controlled by hydraulic type capillary thermostat. An L - shaped prismatic thermometer is fitted to the unit for reading the chamber temperature. Equipment suitable to be working on 220V AC 50Hz single phase.
Timer 0-24 hours
Air circulating fan
---