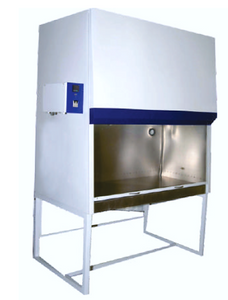 Biological Safety Cabinet, Mild Steel (MS) (With Virus Burnt Out Unit) With Timer (Model No. HV-BSC-290)
Rs. 79,497.00

Rs. 79,497.00
---
---
Biological Safety Cabinet, Mild Steel (MS) (With Virus Burnt Out Unit) With Timer
Technical Specifications:
Interior surfaces epoxy painted. Work table made of SS sheet and is fitted with UV Germicidal Light, Static Pressure Manometer, Exhaust System suitable for 6 feet duct and Virus Burn Out Unit. Side panels are made of thick transparent plexi glass duly framed. Unit is fitted with pre-filter and HEPA Filter. The blower and motor assembly has statically and dynamically balanced Motor of FHP capacity. The working area is illuminated by fluorescent lights fitted to the unit. Air is sucked through the pre-filter and the excess air is thrown out from the top, through a HEPA filter of size 1'x 1'x 6".
Outer is made of Mild Steel (MS).
Inner is made of Stainless Steel (SS).
Digital timer for U.V. Light & blower.
---