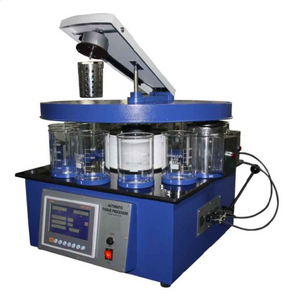 HOVERLABS Automatic Tissue Processor (Model No. HV-1011)
Rs. 251,922.00

Rs. 251,922.00
---
---
Specifications :
a) Duly Automatic Electronic PLC (Microprocessor) control for processing tissue samples.
b) Capacity of twenty five cassettes simultaneous processing.
c) 10 regent container, 2 bath with heating elements on board and basket rotors.
d) PLC (Microprocessor) based programmable immersion hold time during each step.
e) Programmable rotation within reagent container.
f) Programmable wax temp controller with alarm for temperature beyond set limit.
g) Programmable delay action 1 hour to 99 hours.
Accessories :
02 Nos. Electronically Controlled Wax Bath 10°C to 80°C.
01 No. Stainless steel basket rotor.
01 No. Stainless steel basket (capacity to hold 20-25 tissue cassettes).
10 Nos. Beakers of 1 liter capacity each
---
We Also Recommend
---