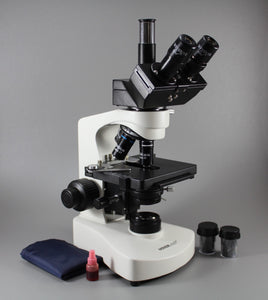 HOVERLABS Research Trinocular Microscope (Model No. HV-20 TR)
Rs. 16,169.00

Rs. 16,169.00
---
---
Product Highlights :
Sturdy Metal body with all glass optics.

Available with both 110/220V Power options with your country specific power adapter.

Ergonomic design with CLARITY optics.

Eight Magnification configurations: 40X, 60X, 100X, 150X, 400X, 600X, 1000X, 1500X.

ISI, CE Marked Conformities & made in ISO 9001:2008 company.

GERMAN Glass optics with Anti-fungus, Anti reflection coating. All objectives are perfectly para-focused with no image shift.

Sharp and Clear Images.

Free substage mirror/ reflector to work without electricity, cordless – field work.

Professional brand new microscope, used by Doctors, Pathologists, Vets, Students, Researchers.

High Quality Quadruple nosepiece with click stops.

Movable Abbe Condenser 1.25NA, adjustable iris diaphragm.

Slide and Objective protection via upward stage stopper.

Dual Side focusing controls.

Coarse and fine focusing controls for precise focusing of the specimen.

Also available with optional LED light and battery backup.

Unbeatable Pricing | Best Price to Performance ratio.

Quality Tested, Body parts made of Aluminum & solid brass for rugged durability.
Technical Specifications :
Observation head
Trinocular observation head inclined at 45°, rotatable through 360 degree with Interpupilliary distance adjustment and diopter adjustment on one ocular; having trinocular phototube for imaging attachments/ microscopy cameras.
Main body
All parts die casted to provide long life & good mechanical strength.
Focusing
Precise and Separate coarse and fine focusing controls with ergonomically placed knobs on both directions.
Magnification Configurations
40X, 60X, 100X, 150X, 400X, 600X, 1000X, 1500X
Eyepiece
Wide field 10x, 15x pairs
Objectives
Din objectives 4x, 10x, 40/45x s. L. 100x oil immersion (s. L. ).
Nosepiece
Quadruple nosepiece revolves on ball bearing.
Mechanical stage
Co-axial low positioned mechanical x-y stage of size 120 x 125 mm with stage fine Vernier graduation.
Condenser
Abbe condenser n. A. 1. 25 having aspherical lens, adjustable iris diaphragm.
 Illumination
Built in illumination system with 6v-20w halogen bulb & plano concave mirror attachment suitable for 220V/110V. US, UK, Indian, Australian power plugs as per requirement.
Package Contents
Trinocular Microscope with Objectives
Substage Mirror/ Reflector
Two Pairs WF10X & 15X Eyepieces
Four High Quality Objectives 4X, 10X, 40X, 100X OIL
One spare bulb
One Set Color Filters
One User Manual
One Cleaning Cloth
One Dust Cover
One bottle immersion oil
Optional Accessories :
Rechargeable LED illumination with battery.

0.35, 2.0, 3.2, 5.1, 9.0, 10.0, 14.0 Megapixel CMOS Cameras for LIVE IMAGING with High frame rates.

Image analysis softwares for Medical, Industry and Research Applications

Metallurgical Attachments.

Multi- Head attachment for Microscope, Double & Triple demonstration eyepieces.

Wooden Carrying Case.
---
We Also Recommend
---