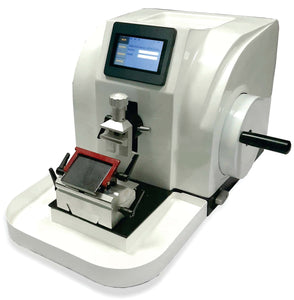 HOVERLABS Semi Automatic Microtome
Rs. 278,000.00

Rs. 278,000.00

Save Rs. 22,000
---
---
( Leica Type)
| | |
| --- | --- |
| Model No. – HV-HSM-1090a | Make – HOVERLABS |
TECHNICAL SPECIFICATIONS:
LCD Display with Feather Touch Keypad
Section thickness adjustable.
Cutting/Trimming Mode
Fast Forward/Backward Function
Increase/Decrease Section Thickness
Section Counter/Section thickness display
Motorized Feed Drive
Coarse feed speed directions (in both direction) around 300µm/s & 900µm/s
Ergonomic standard specimen clamp.
Sturdy knife holder with angle adjustment scale & locking lever.
Disposable knife holder with lateral displacement feature.
TECHNICAL SPECIFICATION:
Section Thickness Range : 0.5µm-100µm
Setting Values: 0.5µm-2µm in 0.5µm increments.
                                    2µm-20µm in 1µm increments
                                    20µm-100µm in 5µm increments.
Trimming Thickness Range : 1µm-600µm
Setting Values: 1µm-10µm in 1µm increments.
                                    10µm-20µm in 2µm increments
                                    20µm-100µm in 5µm increments.
                                    100µm-600µm in 10µm increments.
Minimum Setting Value: 0.5µm
Object feed: 28mm
Vertical stroke: 60mm
Specimen horizontal feed: 28mm
Specimen Orientation        : x-axes and y-axes : universal 8°
                                                   Z-axis: up to 360°
Max. Specimen size             : 50x50mm.
Operation                             : Manual.
Weight                                   : 35 kg.
Standard accessories          : High profile disposable blades pkt. of 50 nos
---