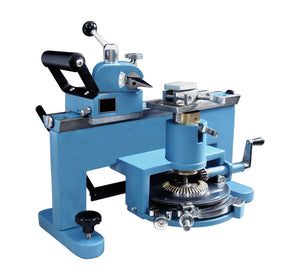 HOVERLABS Sledge Microtome
Rs. 49,000.00

Rs. 49,000.00

Save Rs. 5,000
---
---
Product Specifications:
| | |
| --- | --- |
| Cutting Stoke | 200-250 mm |
| Brand | HOVERLABS |
| Model | HV-HSM-9090 |
| Total Feed Range | +/- 8 Degree Horizontal And Vertical ( Optional) |
| Specimen Orientation | +/- 8 Degree Horizontal And Vertical ( Optional) |
| Section Thickness Range | 0 -0.40 um in 1um Increments |
| Maximum Specimen Size | 50 x 50 mm |
Heavy duty Sliding or sledge Microtome for cutting sections of plastic moulds, wood and other hard specimens. The sledge microtome is used for cutting sectioning of brass, copper too. It cuts sections in the thickness between the ranges of 0 to 20 microns. The knife holding clamps allow the knife to be offset to the direction of cut, a major advantage when sectioning large, hard blocks. The microtome, which is very heavy for stability and not usually subject to vibration, can also be used to cut materials from various industrial applications (wood, plastics, textile fibers). They are not suitable for cutting very hard resins such as araldite because of the risk of vibration. The sledge microtome is well suited to cutting a wide range of materials including bone, plastics, resins and wood as well as large area soft tissues. Hard materials like wood, bone and leather require a sledge microtome. This microtome's have heavier blades and cannot cut as thin a regular microtome.
---