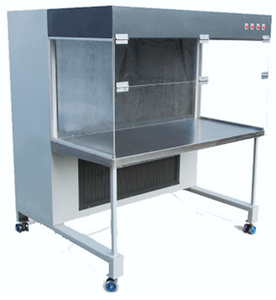 Laminar Air Flow, Horizontal, Mild Steel (MS) (Model No. HV-LAF Series)
Rs. 120,929.00

Rs. 120,929.00
---
---
Laminar Air Flow, Horizontal, Mild Steel (MS) With Magnehelic Gauge, LCD Controller
Technical Specifications:
Sides of work bench covered with transparent acrylic sheet. Front acrylic door of collapsible type. Work-bench made of stainless steel sheet. HEPA Filter provided vertically on back of the work bench horizontally. Blowers, motor and pre-filters fitted in lower portion of the cabinet. Properly balanced blowers fitted on 1/4 H.P. Electric motor provided to supply sufficient air to HEPA filter. Pre-filters provided to supply pre filtered air to the blowers. One fluorescent tube and one U.V. Germicidal tube provided over work bench. Static pressure manometer fitted to the unit.
Outer made of Mild Steel (MS). 
Inner made of Stainless Steel (SS). 
Magnehelic Gauge (To track filter pressure) in lieu of static pressure manometer.
Microprocessor LCD Controller with Auto Switch off mode.
---