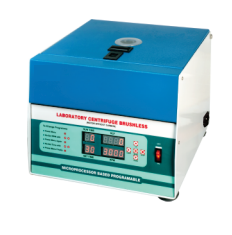 Medical - Clinical Centrifuges With Brushless Motor, Without Carbon (Model - Digital)
Rs. 25,219.00

Rs. 25,219.00
---
---
Specifications : 
* Heavy duty C.R.C. construction finished with power coating.
* Double walled ABS injection moulded lid which is light weight to avoid accident.
* Fitted with microprocessor based pre programmable speed controller to control speed
from 500 - 2850 r.p.m. in the interval of 250 R.P.M, Max. R.C.F. 1325 xg.
* Timer: 0-59 minute and can be set in an interval of 1 minute.
* Large LED display R.P.M., R.C.F., Set Time, Run Time.
* After the time is over a beap sound will come.
* Last parameters recall automatically.
---
We Also Recommend
---