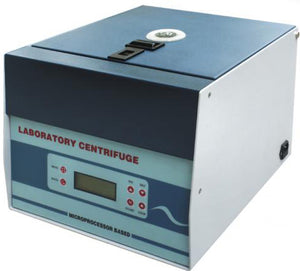 Micro Centrifuge Brushless (Without Carbons) 20000 RPM (Model No. HV-20-BL)
Rs. 51,477.00

Rs. 51,477.00
---
---
* High speed, bench top, Micro Centrifuge Machine, Microprocessor based
* Heavy duty C.R.C. construction finished with powder coating
* Stainless Steel centrifugal bowl for extra protection and easy cleaning.
* Fitted with well balanced brushless motor with electronic drive.
* 4 lines, 20 characters. LCD Display for set time, run time, set and run rpm, rcf and rotor
Identification. Timer os 0-99minutes.
* 10 programmes can be stored in memory and automatic rotor identification on display.
* Additional electronic lid lock who does not allow to open lid when machine is running and opens
automatically after centrifuge time is over.
* Dynamic brake (automatic) and imbalance detector are provided.
* Selection of 3 acceleration + 4 deceleration profile.
* Programmable Speed Regulator from 2000 to 20000 in interval of 100 rpm
* Last test parameter recall and displays automatically on LCD
* Fast spin option and work on 220 volts 50Hz A.C.
* Machine comes without rotor heads

Special Features :
* Rotor Head are manufactured from special grade aluminum which can withstand high speed.
* Very stable
* No vibrations
* Motor fitted on anti vibration springs supported with rubber covering from inside and out side.
---
We Also Recommend
---