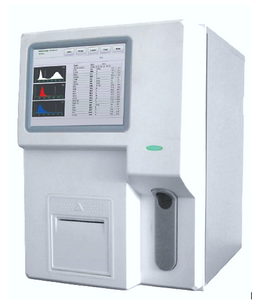 3 Part Auto Hematology Analyzer (Model No. HV-HA-863)
Rs. 300,000.00

Rs. 300,000.00
---
---
3 Part Auto Hematology Analyzer
Features:
Easy operations and maintenance 

20 parameters with 3 histograms
Multicolor touch screen display
Automatic cleaning of sample probe
High voltage shock and back-flush for clog elimination
Floating boundary algorithm and histogram abnormal prompt function
Use the cyanide-free SFT method to measure hemoglobin
Two reagents (diluent and lyse) for complete results
Technical Specifications:
White Blood Cells, Red Blood Cells and Platelets are counted using the direct impedance
method with coincidence correction. Automatic floating discriminators separate the cell populations based on complex and accurate algorithms. The intensity of the electronic pulse from each analyzed cell is proportional to the cell volume.
The hematocrit (HCT) is directly determined based on the red cell count and volume  detection of each individual RBC.
Principle
Electrical impedance method for cell counting and Cyanide - free for hemoglobin
Parameters
WBC, Lym#, Mid#, Neu#, Lym%, Mid%, Neu%, RBC, HGB, HCT, MCV, MCH, MCHC, RDW-SD, RDW-CV, PLT, MPV, PDW, PCT, P-LCR
Histograms
WBC, RBC, PLT
Throughput
60 samples per hour
Sample volume
Venous mode: 10μL venous blood
Capillary mode: 10μL capillary blood
Prediluted mode: 20μL capillary blood
Display
8-inch color LCD touch screen with resolution of 800×600 
Calibration
Manual and Auto-calibration
Quality control
3 level QC with LJ graph
Memory
100,000 sample results with histograms
Printout
50 mm thermal printer, various printout formats, external printer (optional)
Power
~AC 110-240V, 50/60±1Hz

Physical
Dimensions: 410 x 435 x 472 mm
Weight: 19kg

Operating Environment
Temperature: 15°C~30°C
Humidity: 30%~85%

Performance
Parameter                   Linearity Range          Precision (CV%)
3 WBC (10 /μL)               0 - 99.9                      ≤ 2.0
6 RBC (10 /μL)                0 - 7.99                      ≤ 1.9
HGB (g/dL)                     0 - 24.99                    ≤ 1.9
MCV (fL)                                                           ≤ 0.4
3 PLT (10³ /μL)                  0 -999                       ≤ 4


---