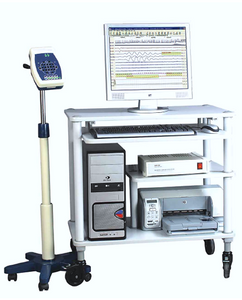 Polysomnography Machine, 32 Channel (Model No. HV-PSG-32)
Rs. 435,500.00

Rs. 435,500.00
---
---
Polysomnography Machine, 32 Channel (PSG Machine)
Salient Features:
Upto 32 channels of Acquisition.
Raw data storage.
Unlimited continuous recording.
Adjustable channel width.
Event marking with comments.
User definable montages.
On line / Off line reformatting of filters (Hf, Lf) and sensitivity.
Selectable epoch for careful data observation.
Facility to mark pages for printing in review.
Ultra fast automatic paging facility for efficient analysis.
Fast extensive search capabilities.
Screen freeze facility to study event carefully.
Effective data base management.
Archiving on any media.
High resolution display.
Portable system option available.
Compact patient box.
Make Autorun CD/DVD which can be played on any system with the software setup.
Auto Reporting
Apneas & Hypopneas:    
                 Obstructive
                 Mixed
                 Central
Bifurcation of OSA, CSA, MSA, HYP in REM & NREM.
Show Sleep Stages in Analysis.
Automatic marking of K-Complexes, sleep spindles, REM.
Spike & Seizure Detection.
Detailed reporting of Oximeter, Heart rates, Snoring etc.
Oximetry Histogram.
Video Recording.
Show CPAP Pressure Delivered to patient and during analysis.
Technical Specifications:
A/D Conversion : 16 bit ADC
Sampling Rate : 1024 Hz
Sensitivity : 1 to 1500 μV/mm & user definable.
Low pass filter : 0.1, 0.3, 0.5, 1, 3, 5, 7 Hz & user definable.
High pass filter : 0.1, 0.3, 0.5, 2, 10, 15, 35, 70, 99 Hz & user definable
Notch Filter : 50/60 Hz
Input lmpedence : > 10 M Ohms
CMRR : > 100 db
Noise level : < 0.3 μV RMS
---