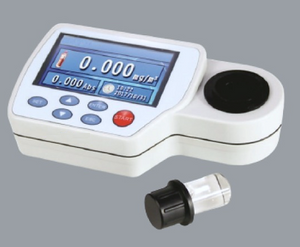 Portable Turbidity Meter Research Grade (Model No. HV-340)
Rs. 65,585.00

Rs. 65,585.00
---
---
Salient Features :
4.3 inch colored TFT screen
Contain 200 curves and customize high precision test curve according to measurement ranges. Users can set up different piecewise curve and coefficient subject to different concentrations which will literally improve measurement precision.
ARM9 main control chip makes operations easy, response quick and big storage up to 500M.
Adopt special and high precision light filter system to ensure the instruments' stability and accuracy.
Cold light source, narrowband interference, with long lifetime up to 100,000 hours.
Portable Type: Advanced power management system can show the battery status in real time and be charged via USB port on PC or vehicle.
Specifications :
Type : Portable 
Description : High-precision Turbidity 
Minimum readout (NTU) : 0.001 
Measuring range (NTU) : 0-10, 0-100, 0-1000, 0-4000
Basic error : ±3%FS
Repeatability :≤0,5%
Zero drift : ±0.5%FS
Applications : Factory condensate water, Domestic sewage
Power : Lithium battery3.7v/5200mA
Output : Micro USB
Dimensions /N.W. : 21Ox105x65mm/500g
Standard Accessories : Cuvette cup x 2 pc, Charger, Suitcase, Manual 
---
We Also Recommend
---