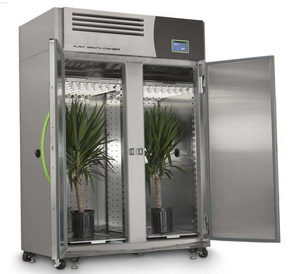 Reach-In Plant Growth Chamber - 800L
Rs. 427,000.00

Rs. 427,000.00
---
---
REACH-IN PLANT GROWTH CHAMBER - 800L
Double walled, inner made of Stainless Steel 304, outer made of thick Mild Steel duly Epoxy Powder Coated. Insulation between inner and outer wall is done with high quality insulation to prevent any heat loss. Provided with double door, inner door made of thick transparent full view tampered safety glass and outer door is double walled made of thick gauge Mild Steel. Whole unit is mounted on Castor Wheels, Supplied with 4 Perforated Stainless Steel trays which can be adjusted.
 Temperature range from 0 to 60 Degree Celsius is controlled. Provided with exterior illumination for artificial daylight. Cyclic illumination conditions are well regulated. Humidity range is up to 95%. Air circulation fan is provided to maintain temperature stability throughout the chamber. Econ friendly CFC free refrigerated unit in provided in the chamber.
Type and Capacity: Reach-in type; 800L (internal)
Number of Plant growing Chambers : 2 Chambers with 4 Shelves/Trays.
Maximum Plant growing Height per shelf: ≥600mm
Height adjustable shelf: Perforated stainless steel trays, 04 Nos. which could be lifted easily for cleaning. Adjustable up to 0.5 inch increment/decrement. [ 2 tier ]
Construction of body and door: Double walled leak-proof highly durable construction for body (includes all walls, ceiling and floor) and door; Outer wall of body and door made of Mild Steel Epoxy Powder Coated ≥19-gauge; Inner wall made of Stainless steel SS304 ≥19-gauge, Height adjustable shelf made of SS304 and capable of retaining more than 52 kgs weight; The plant growth chamber is provided with heavy duty durable lockable PU castor wheels for easy mobilization.
Door: Double Door
Inner Door: Inner door on each side made of thick transparent Full View Tampered Safety Glass, hermetically sealed glass. This provided user the facility to clearly observe both the shelved without opening.
Outer Door: Outer door on each side provided with magnetic insulation gasket and sturdy latch with lock & key arrangement, made of thick gauge Mild Steel Epoxy Coated made ≥19-gauge.
Insulation of body and door: Foam-in-place Polyurethane (CFC-free, 7.5 inch thickness); density 1 kg per cu. Feet.
Temperature sensor: PT-100 'A' class for temp., calibrated & traceable to NABL accredited labs.
Temperature Range: Range: 0°C to +60°C (lights OFF) Note: (+5°C to +60°C , lights ON)
Temperature accuracy: Resolution: 0.1°C Accuracy: ±0.1°C ,
Temperature Uniformity: ± 0.2°C to ±1°C
Temperature controlling mechanism/details: Air-cooled Refrigeration system with CFC-free refrigerant Eco Friendly Good quality compressor Emerson Copperland® make or equivalent, 1 stage cooling system Temp. & Humidity Control. All accessories such as HPCO/LPCO, Oil Separators, Dryers, Relays, OLP etc. of good make like Danfoss or equivalent. With suitable tonnage compressor for maintaining temperature with lights on.With hermetically sealed air-cooled condensing unit compressor (having extended life and close temperature control) coupled with Evaporation coil and condenser, safe guarded by time delay circuit. Cooling system will be split type to avoid hot air in growth chamber. Cooled air would be delivered in such a way to reduce or eliminate condensation within media dishes and to provide maximum uniformity In different research vessels and through silent and durable fan motors or advanced air diffusers. Air Cooled Condenser with solenoid & LP to pass hot gas to the chamber for uniformity & long life of compressor for continuous usage. All weather proof coating for cooling & condensing coils. Heating System includes Good quality SS tubular heaters.
Humidity sensor: Hydro clip non-condensing type sensor for RH or better
Humidity range: 30% to 98% RH with accuracy ±1%
Humidity Uniformity: Uniformity: 3%
Humidity accuracy: Resolution: 0.1%, Accuracy: ± 1%,
Humidity Controlling System: Humidification & De-humidification: Consist of Ultrasonic/Pan type humidifier tank fitted with boiler heaters, and will give alarm if fault occurs. Water reservoir tank has to be connected to the humidifier. De-humidification coils are installed below the cooling coils for lowering the humidity.
Air-circulation: forced air circulation through fan for uniform temperature and humidity maintenance using one set motor and blower in baffle wall Compartment to push treated air in working chamber from back side behind baffle wall; the air circulation blower is also fitted in this compartment only. Air circulation force is such that it would not disturb normal plant growth or put mechanical stress on them.
Light direction: downward facing on top ceiling of the chamber.
Light color: cool White (6000-6500 K) and Warm white (3500-4500 K) on top ceiling of the chamber.
Light-type: Panel/module made of LED chips with alternating warm and cool LED chips both column and row-wise; Led panels are water/humidity resistant; the Light source source would be made of multiple replaceable panel/modules.
Light intensity: 250 µmol m-2 s-1 of warm light or more and 250 µmol m-2 s-1 of cool light or more for each shelf (total 500 µmol m-2 s-1 above each chamber); All intensities measured at 6 inches or more from the light source and are uniform throughout and below the light source; Light intensity will be demonstrated while installation.
Light intensity adjustment: Cyclic illumination conditions are regulated by Microprocessor based Digital Timer with Photo Sensor, regulation of each chamber illumination is independent. Controller-mediated 10-100% (at a increment/ decrement of 1%) for each colour (cool and white light), separately, unambiguous light regulation for each shelf respectively; Controller-mediated hourly basis (or less) light regulation (intensity for each colour separately, switching on (each color separately), switching-off (for each colour separately)); All regulations are independent for each chamber.
Controller-details: All regulation through a single PLC with HMI controller having touch screen display; easy to operate, display of set and present temperature, relative humidity and light parameters. Alarms for Temp/RH high-Low,Water level low; Auto-Tuning And Auto Start Stop Function; Temperature and Current Protection Capability; Alert for Unexpected Interruption Of Electrical Power Or Unauthorized Change; Ambient temp. Monitoring; facility for 50 Cycles with Minimum 100 Sections in Each Cycle for light, temperature & humidity; Safety features: Lamp on Delay System, 2 minute compressor "on" delay timer to safeguard the compressor. Compressors overload relay protector. Electronic low water level cut off device to cut off the supply to boiler heater in case of low water level; HRC fuses for compressors, heaters & mains.
Facilities/ accessories required: 30 minutes or more power to support the controller functionality and display through battery or UPS (supplied by manufacture/supplier); All cables/Plugs/ Pipes and connectors for water supply will be supplied.
Operating condition: Operates with standard electrical supply condition in India i.e. 220Volts 50/60Hz and will function in all weather condition prevailing in India (inside a closed room).
---