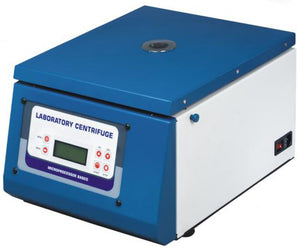 Revolutionary Microprocessor Laboratory Centrifuge Brushless Max Speed 6000 RPM Premium (Model No. HV-8-BL)
Rs. 53,149.00

Rs. 53,149.00
---
---
* Heavy duty C.R.C. construction finished with powder coating
* Fitted with brushless automatic balanced motor
* Microprocessor based, 4 lines, 20 characters. LCD Display of set time, run time, set and run rpm, rcf.
* Equipped with 1-99 minute timer.
* Programmable speed regulator to control speed from 500 to 6000 r.p.m depending upon the type of rotor & Fast spin option.
* 10 programmes can be stored in memory.
* Automatic rotor identification on display.
* Additional electronic lid lock which does not allow to open lid when machine is running.
* Dynamic brake (automatic) and imbalance detector are provided.
* Selection of 3 acceleration + 3 deceleration profile.

Technical Parameter :
* Max. Speed : 6000r/min.
* Max. RCF : 4390xg
* Motor : Brushless Motor
* Noise : <65dB
* Power : AC 220V 50 Hz 15A
* Dimension : L x W x H, 490 x 380 x 270 mm
* Weigh : 29 Kg
---
We Also Recommend
---