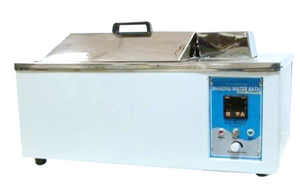 Water Bath Incubator Shaker With Auto Cut Off Device (Model No. HV-IS-140)
Rs. 27,948.00

Rs. 27,948.00
---
---
Water Bath Incubator Shaker With Auto Cut Off Device
Technical Specifications:
Similar to other water baths but fitted with inbuilt shaker for different experiments demanding shaking at constant speed under controlled temperature conditions. The temp. is controlled by capillary type thermostat from ambient to 100° C RPM range :- 40-140 with variable electronic speed regulator Workable on 220 V AC 50 Hz Single phase.
Auto Cut Off Device when water level is low.

---