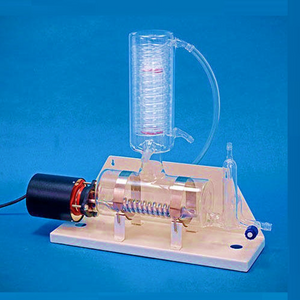 Water Still with Metal Heater (Model No. HV-MH-40M)
Rs. 13,999.00

Rs. 13,999.00
---
---
It comprises of Horizontal Borosilicate Glass Boiler fitted with a 3 KW chromium plated immersion heater with cut-off, highly efficient coil condenser ensures a reliable output of single stage distillate. It is designed for easy usage, safe to operate and low cost.

Features:

Abundant Output: The still provides 4 ltr/hr of distillate water which is ideal for general laboratory use and is capable for producing pyrogen free.
Distillate temperature is around 25-40°C which is ensured by highly efficient condenser.
Distillate Quality 
Output : 4ltr/hr
Conductivity : 3.0-4.0 μS/cm
Distillate Quality : Pyrogen Free
---