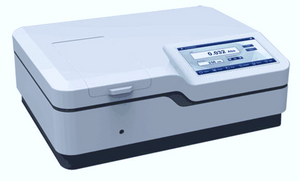 Double Beam UV-VIS Spectrophotometer Touch Screen (Model No. HV-2205)
Rs. 345,725.00

Rs. 345,725.00
---
---
Salient Features :
Double Beam Optics
10. 1 Inches Colored Touch Screen
Auto Wavelength Setting at 0. 1 nm Interval
On-screen Standard and Kinetic CUM Display
Tungsten / Deuterium Lamp can be turned ON/Off Individually to Extend Lifeline
Application Software provides complete control of the instrument from a computer through the built-in USB Port.
Basic, WL Scan, Multi-wavelength, Kinetic, Quantitative, DNA/ Protein modes .
Pre-aligned design makes it convenient to change lamps.
Technical Specifications :
Function : Basic, Wavelength Scan, Multi Wavelength, Kinetics, Quantitative, DNA Protein.
Wavelength Range : 190 -1100 nm 
Spectral Bandwidth : 1.8 nm
Optical System : Double Beam, Grating 1200 lines/mm

Wavelength

Accuracy : ± 0.1 nm

Wavelength 

Repeatability : 

± 0.1 nm

Scanning Speed : HI, MED & LOW, MAX. 3600 nm/min
Photometric Accuracy : ±0.3 %T or ± 0.002 A/h @1A 

Photometric Range :     %T        : 0-200%
                                                 Abs      : -0.3 to 3A
                                                Conc.    : 0-9999 C
Stray Light : < 0.03 %T@ 220 nm & 360 nm

Stability : ± 0.001 A/h @ 500 nm 

Display : 10.1 Inches Colored Touch Screen

Baseline Flatness : ± 0.001A/h (200 - 1000 nm) 

Sample Compartment : 2 cell-10mm path- length. 

Light Source : Halogen & Deuterium Lamps (Pre-Aligned) 

Printer Interface : Parallel port for Dot Matrix

PC Connectivity : USB Port for PC Connectivity

Power : 230 V ± 10% AC, 50 Hz 

Dimensions (L x B x H) : Instrument : : 810 x 660 x 390 mm (Approx.)
Standard Accessories :
Quartz Cuvettes - A Set of 2
Glass Cuvettes - A Set of 4
Instruction Manual
Software Manual
Software CD
USB Data Cable for PC Connectivity
Mains Lead
Dust Cover
---
We Also Recommend
---