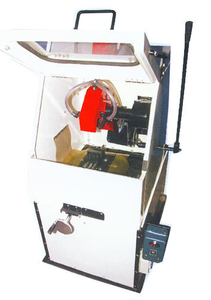 Metallurgical Rock Cutting Machine
Rs. 88,000.00

Rs. 88,000.00
---
---
TECHNICAL SPECIFICATION
The machine is capable of cutting, trimming and chipping rock pieces and rock slabs.
Made up of heavy MS base and tray.
The drive shaft made of stainless steel
Diamond impregnated wheel (with adequate guard) of 20 cml25 cm diameter with suitable cutting cap depending upon the size of the wheel.
Gravity Feed mechanism, and controlling moment with hand pressure
The speed of the cutting wheel 200C and 3000 RPM in accordance with the revolution specified on the particular cutting wheel and will be able to cut rock pieces or slabs of different hardness.
The machine is suitable for operation on drive motor 2 HP, on 220 V AC and single phase.
The machine will be fitted with adequate water supply and cooling system during cutting and operation.
Adequate guards is there such as wheel guard, belt guard, and splash guard
Water drainage valve will be available
Specimen holding system, movement of specimen both length and breadth wise.
---
We Also Recommend
---