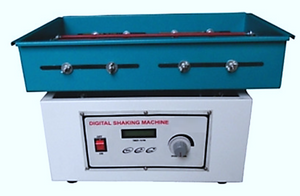 Reciprocating Shaking Machine (Kahn Rack Type) With R.P.M. indicator (Model No. HV-RS-155)
Rs. 19,524.00

Rs. 19,524.00
---
---
Reciprocating Shaking Machine (Kahn Rack Type) With R.P.M. indicator
Technical Specifications:
Designed for shaking kahn racks, bottles, flasks of different sizes by adjusting compartments. Body made out of thick mild steel finished with powder coating. Fitted with heavy duty PMDC motor to work on 220 V AC 50 Hz Single Phase. RPM range to about 250 stokes/min.
Digital R.P.M. indicator.
---