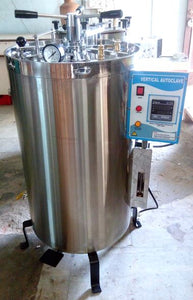 Vertical Autoclave Radial Locking (Model No. HV-101-AC)
Rs. 36,805.00

Rs. 36,805.00
---
---
Vertical Autoclave Radial Locking
Construction :
The outer chamber is made of heavy gauge MS Sheet lined with heavy gauge SS Sheet.
The inner chamber is made of thick 304 Grade Stainless Steel Sheet.
Lid is made of thick machined high grade Stainless Steel plate.
The unit has Radial Locking arrangement made of high grade SS duly polished with paddle lifting mechanism.
Unit is provided with Spring Loaded Safety Valve, Pressure Gauge, Pressure Release Valve, Water Level Indicator & Drain Valve.
Unit is hydraulically tested to withstand upto 40 psi pressure.
All internal joints are Argon arc welded, ground and polished to give crevice free internals. Molded joint-less Silicon Rubber Gasket is provided for leak proofing.
The unit is electrically heated by flange type/immersion type heaters.
Supplied with Control Box, fitted with Mains & Heating Indicators, ON / OFF Switch, Cord & Plug to work on 220/230V, 50Hz, AC supply.
---
We Also Recommend
---