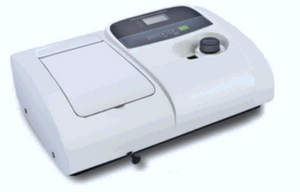 Visible Spectrophotometer (Model No. HV-SPV-320)
Rs. 37,465.00

Rs. 37,465.00
---
---
Salient Features :
Microprocessor Controlled
Microprocessor controlled, HV-SPV-320 can realize auto Zero and auto 100% T adjustment with one push-button. HV-SPV-320 has a LCD display for direct readout of Transmittance, Absorption, and Concentration.
Grating Monochromator
HV-SPV-320 uses 12000 line grating which ensures high resolution, low stray light and parameters accuracy.
Data Output
HV-SPV-320 is equipped with USB port which can be connected to PC to edit data through specific software (Optional) Data can also be printed through a parallel port connected to a micro printer.
Compact Design, Easy To Carry
The compact design of HV-SPV-320 saves bench space while all components function remain performed like 120mm wide sample compartment and long optical path monochromator.
Display Mode
HV-SPV-320 can display absorption, transmittance, concentration and coefficient directly by different mode switching. Large sample compartment, it can accommodate 5-100mm path length cuvettes with optional holders.
Specifications :
Optical System : Single Beam, Grating 1200lines/mm
Wavelength Range : 325-1000nm
Spectral Bandwidth : 4nm
Wavelength Accuracy : ±2nm
Wavelength Repeatability : 

±1nm

Photometric Accuracy : ±0.5%T

Photometric Repeatability : ±0.3% T

Photometric Mode : T.A.C.F

Stray Light : ≤0.3%

Stability : ± 0.002A/h

Display : LCD

Detector : USB Port & Parallel Port(Printer)

Light Source : Tungsten Halogen Lamp

Power Supply : AC 220V/50Hz

Dimension (LxWxH) mm : 420x280x180mm
Standard Accessories :
Software : 1pc.
10mm Glass Cuvette : 4 pcs.
Power Cord : 1 pc.
Instruction Manual  1 pc.
Black Block : 1 pc.
Dust Cover : 1 pc.
---
We Also Recommend
---