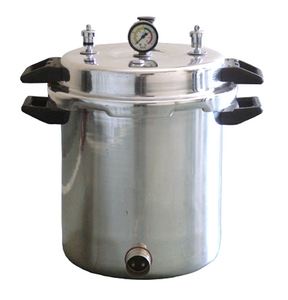 Portable Autoclave (Cooker Type) (Model No. HV-140-AC)
Rs. 13,486.00

Rs. 13,486.00
---
---
Portable Autoclave (Cooker Type)
Technical Specifications:
The body is constructed of SS 304 sheet deep drawn to Cylindrical Shape. Suitable for
general laboratory use as well as for field sterilization of instrument and dressings etc.
Dome shaped SS lid is provided which seals the autoclave with Rubber Gasket. The  working pressure is 1.1 to 1.2Kg./cm2 (15-18PSI). Unit fitted with Pressure Gauge, Spring Loaded Safety Valve, Dead Weight type Safety Valve and Steam Release Valve. The autoclave is hydraulically tested at twice the working pressure as per ISI requirement. Supplied complete with plug cord. Suitable to work on 220/230 Volt, single phase, 50 Hz, AC supply.
---
We Also Recommend
---